Primary Contact
13/723 F-5, NM Arcade
Opp Calicut Bakes & Cafe
Gandhi Ashram, Civil Station
Kozhikode – 673020
Ph: +91 495-237 82 92
Mob: 9400 071 292, 9447 127 032
Email : info@prismautomations.com

STERO-360: MOBILE UV SANITIZER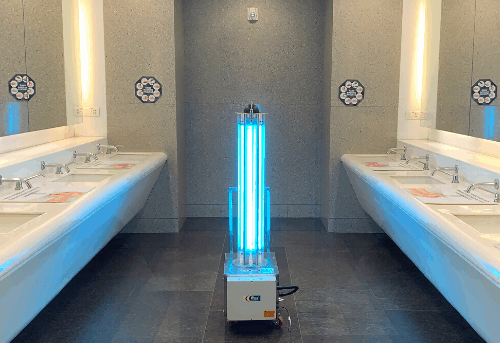 STERO 360 Alfa UV Mobile Sanitizer and Sterilisation System. Covid-19 appears to be the biggest threat at this moment and scientists say it can't be fully eradicated but we have to learn to live with it. But worry not, we are introducing a solution to this challenge from a company well known for the manufacturing of Innovative Products. Presenting Alfa UV Mobile Sanitizer and Sterilisation System, Stero-360 which is effective during post-Covid period also.
About the STERO-360: Mobile UV Room Sterilizer
High-performance mobile UV sanitizer with 6 high-intensity UL certified UVGI emitters(Ozone free).
High efficiency energy distribution system to increase the irradiated UV dose on target by >100%. 
This sterilizer machine comes with pre-set functionality which ensures that the device is placed in an ideal location in the room every time.
This UV room sterilizer also eliminates operator error, which is critical for effective sanitation.
The STERO-360 MACHINE is safe, controlled by any Wi-Fi enabled smart device and its easy to use interface makes selecting the right disinfection cycle, always an easy one.
The STERO-360 MACHINE is also equipped with Realtime performance validation with NIST/ US FDA approved PRISM technology-ensures complete sanitation every single time.